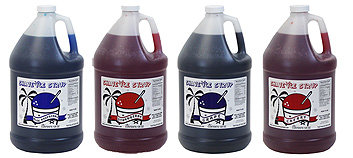 Snow Cone Syrup 1 gallon ready to use
This includes 1 gallon of syrup which makes 65 servings. You can add this to your cart by going to Concessions and Addons.
Looking for a delicious and refreshing way to cool off during the hot summer months? Look no further than our Snow Cone Syrup! Our ready-to-use syrup is perfect for creating delicious snow cones that are sure to satisfy your sweet tooth. Made with high-quality ingredients, our syrup is available in a variety of mouth-watering flavors, including cherry, blue raspberry, and grape. Each gallon of syrup is carefully crafted to ensure that you get the perfect balance of sweetness and flavor. So why wait? Order your gallon of Snow Cone Syrup today and start enjoying the ultimate summer treat!
PICK UP ITEM ONLY