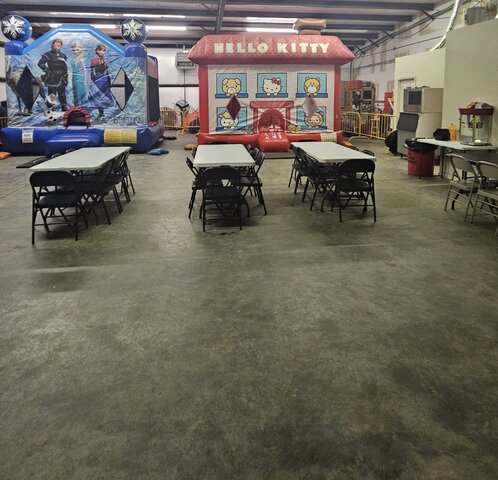 Birthday Party Package
Celebrate your special day in style with our Birthday Party Package! This all-inclusive package includes everything you need to throw a fun and memorable party for you and your guests.
Indoor Birthday Parties are the perfect way to celebrate your child's special day, no matter what the weather is like outside. With a variety of options available, you can create a party that is tailored to your child's interests and preferences. From bounce houses, combos, to arts and crafts like slime, or even carnival rides. ( if you would like these items please give the office a call) there is something for every child to enjoy. Our indoor party venues offer a safe and comfortable environment where kids can play and have fun with their friends. Plus, planning your child's birthday party has never been easier. Choose from a range of inflatables, a popcorn or snow cone machine, you will also get a bubble machine, tables and chairs for up to 25 guest, and activities to create a memorable celebration that your child will love. Let us help you make your child's special day unforgettable with our Indoor Birthday Party package.
Book our Birthday Party Package today and make your celebration one to remember!